December 31, 2013 | Posted in news | By nimda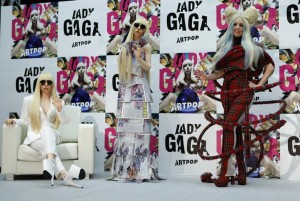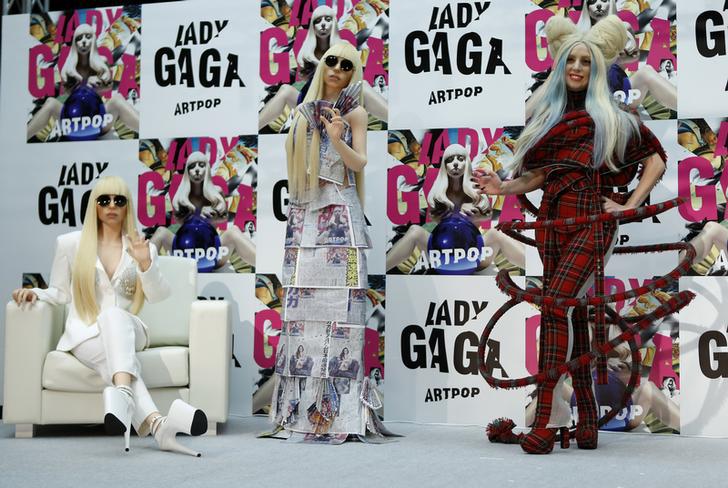 27 year-old singer Lady Gaga was in Tokyo recently to introduce prototypes of dolls based on her Artpop album.
Talking to Associated Press, Gaga said she was honored to have replicas of herself. When her friends saw the dolls, "they were so excited to take pictures of me with the dolls and then all of a sudden the dolls took over. And the dolls were the most important thing in the room. And this is a beautiful thing," she said.
At the news conference, the 27-year-old singer made her grand entrance wearing a red plaid jumpsuit and wrapped in coils of the same fabric.
Gaga is participating in a charity auction to benefit the 2011 earthquake and tsunami victims. She's hoping that one of the two Gaga-styled Hello Kitty dolls will raise a lot of money for the cause.
The dolls are not yet for sale, and it's not quite clear who exactly would buy life-size Lady Gaga dolls, but the singer said she looked forward to returning to Japan with the "Artpop" tour although the concert schedule hasn't been released.
Read more from Journal Sentinel: http://www.jsonline.com/entertainment/newswatch/lady-gaga-unveils-dolls-in-her-flamboyant-likenesse10d6c5cd92e45199f8724f9d8da588a-234035271.html#ixzz2p3RhFtqL

December 24, 2013 | Posted in news | By nimda
It's a month of surprises. Following Beyoncé's surprise album called "Beyonce", Justin Bieber "Journals" has just been released practically unannounced.
Justin Bieber Journals
It's a nice idea. Over the past few months, he had been releasing tracks with an instrumental vibe. The influences are R&B and urban with the lyrics seemingly inspired by his relationship with Selena Gomez.
Justin Bieber "Journals" consists of these tracks, with five "unheard" ones, packed into a single set. For just $13.99, Beliebers get all 15 songs, in addition to visual material such as the "All That Matters" video, the "Believe" (film) trailer, and footage from Justin's recent trip to Guatemala. The collection features five duets. He teamed up with rappers Lil' Wayne, Big Sean, Future, Chance the Rapper as well as with R&B veteran R. Kelly "Journals" will be available on iTunes only until January 2.
Check it here: Journals – Justin Bieber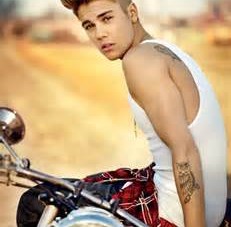 December 19, 2013 | Posted in news | By nimda

Will Justin Bieber Retire From Music by Lehren Hollywood
So why would Justin Bieber retire right now?
Justin Bieber has said that he will retire after the next album; I say he won't.
Seriously, can't a guy wind up the music press any more? 😉
He made the comments during a radio interview in Los Angeles. But like many people, I don't believe it's true. His new releases show that a new Justin Bieber is emerging, one that has a good few years of mega-stardom ahead of him. He also has more music to reveal as he grows as an artist from a teeny-bop star to an adult performer.
It's a transition that is not always easy to make and one that has many traps (hi, Miley). But I suspect Justin Bieber will be with us for years to come.
What would you do if he did retire?
So no. Justin Bieber is not retiring; he is just having some fun at the expense of the press and Twittersphere (and perhaps you). But seriously, what would you do if he did retire?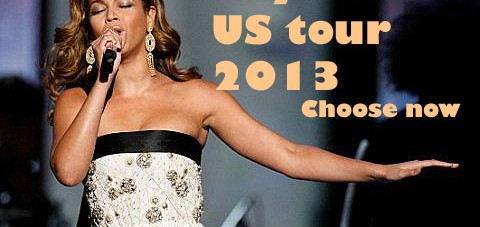 December 17, 2013 | Posted in news, song meaning | By nimda
Beyoncé has a new album called, um, "Beyoncé". Out of the blue, interesting, varied and backed up by a bunch of videos. I think it's pretty good and you can find it on iTunes, but I recommend that you enjoy the full experience on her swish website.
Inevitably, there are also negative reviews. One of the recurring themes is that it's hard to be pretty sometimes. The songs are also very much in the first person, which leads to accusations of narcissism (What? A narcissist pop singer? Surely not).
Beyonce's new album is about you
But Raw Story's Amanda Marcotte makes a great point in her article on Beyonce's surprise new release.
"These are songs that the singer believes, with good reason, will be played on repeat and memorized and sung along with. They will be sung along with at clubs and in cars. They will be sung in karaoke bars. The singer is just as much us as it is Beyoncé. And Beyoncé clearly knows that. When she released "Single Ladies", for instance, she wasn't singing about a personal experience with having to dump a man to get him to know what he was missing out on—she was already with Jay-Z and they were getting married. The song is clearly for the women in the audience to sing along to, and, regardless of the problems in the framing of it, the idea is to boost yourself up and say that you deserve to have standards."
From a singer's point of view, the album features Beyoncé using a slightly lower voice, which is good news for those that want to sing like Beyonce.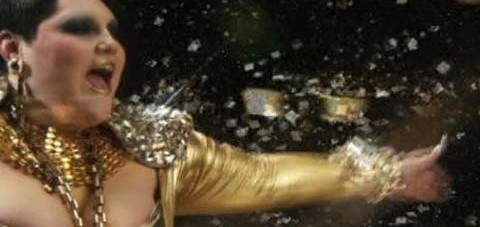 December 5, 2013 | Posted in news | By nimda

To answer the many people that have come here looking for the name of the band singing in the Dior ad, J'Adore, here it is. The Gossip, singing "Heavy Cross", from their 1997 album "Music for Men".

Vocalist Beth Ditto explained "Heavy Cross" to Britain's NME magazine in 2009: "I know so many amazing people who devote their lives to undoing things, and I feel that's the essence of punk now because punk's already been done, it's old. It's about recreation and my friends, who I feel like are the ultimate creative re-creators." The "heavy cross" is a symbol of the pressure that society puts on people who find it hard to fit in, and is most probably also a reference to the conservative Christian community in which she grew up.
It's a cruel, cruel world to face on your own
A heavy cross to carry along
The lights are on but everyone's gone
And it's cruel
Catch more of The Gossip here.
Sing it yourself with these karaoke versions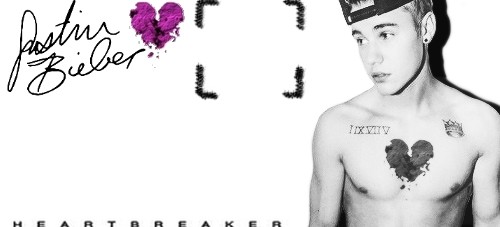 December 1, 2013 | Posted in news | By nimda

Justin Bieber '' Heartbreaker '' Official Single '' New...07.10.2013 by SoundbanK

It's hardly news if you think about it. But his new single "Heartbreaker" shows how Justin Bieber's changing voice is also changing the types of songs he sings. After all his recording and touring – and just growing up – it's clear that he will soon start stretching his style and lyrics. The single is an evolution, not an evolution, as he still uses the distinctive crawl in his voice, and breaks it slightly at times to evoke emotion.
It's affected, sure, but it's what his fans like. The lead vocal is also surrounded by tons of "baby-oh baby" ad-libs. Added to the strange echo-laden production and mid-tempo rhythm, the overall effect is slightly hypnotic.
Read more about Justin Bieber's voice. If you want to practice singing Heartbreaker by Justin Bieber, try the instrumental version at right. There are no particular difficulties in this song; it's all a question of the vocal styling. Think you can do it?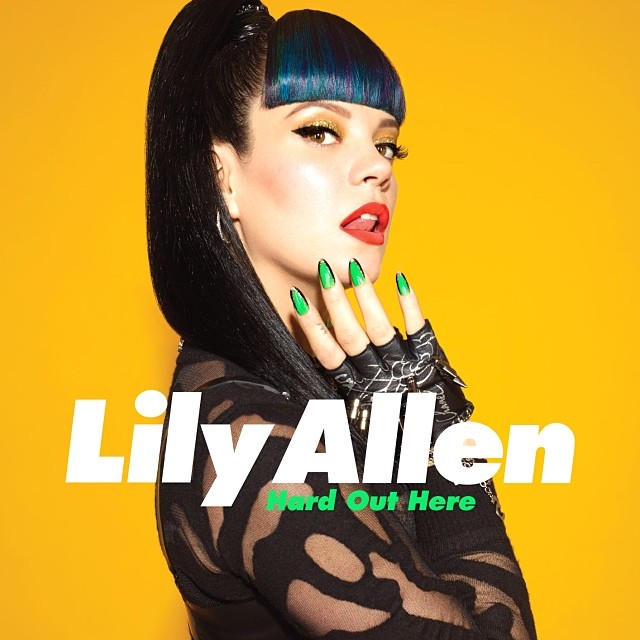 November 20, 2013 | Posted in news | By nimda
The British singer Lily Allen made a spectacular comeback with the track "Hard Out here", where she takes a hard but funny look at many of the clichés in today's pop.
Her version of Keane's "Somewhere Only We Know" also reached the second position in the British charts. But in an interview with BBC Radio presenter Nick Grimshaw  she admitted, "I can't listen to the song, I've gotta be honest. It's quite shrill." She also claimed that she "couldn't stomach" Smile, the debut song that propelled her to stardom in 2006.
Allen is not known for mincing her words, so it is likely that she is being truthful. But what does that tell us? The first step to improving your voice is recognising that there might be an issue.
Professional singers vs. rockers
Many performers get into singing somewhat spontaneously, and catch up with the technical side of singing later. An interesting exercise is to compare the voices of artists at different points in their careers. Many of today's singers are more "professional" (some would say "groomed") than the previous generation of rockers, for example.
One example that stands out is David Bowie. I invite you to listen to his fascinating fourth album "Hunky Dory" or the hit "Starman" to discover what the word shrill means. Now compare that to the suave tone of "Let's Dance". Somewhere along the line, Bowie decided to better shape his voice, discovering new possibilities along the way.
But before we get too metaphysical about these things, check out Lily Allen's website and particularly the Twitter and Pinterest accounts for some light entertainment. ; -)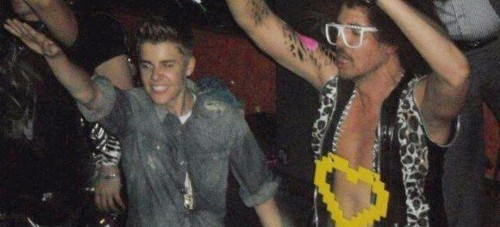 November 19, 2013 | Posted in news | By nimda
The wires (well, Huffington Post and TMZ) are buzzing with rumours about Justin Bieber's November 15 party. The story is that he wanted something which would be leak-proof. So the guests and workers were obliged to accept a non-disclosure deal with a $3 million fine if anything got out.
Inevitably, rumours of naked women and light drugs have been flying around since then. One source called the party "Gatsbyesque". Guests included Floyd Mayweather and Chris Brown.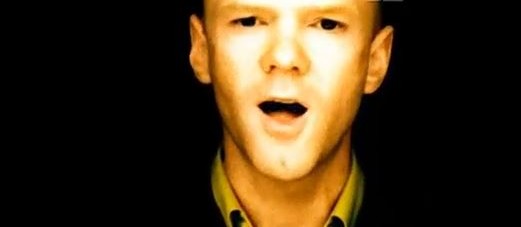 November 6, 2013 | Posted in tip | By nimda

Everyone has seen the Jimmy Somerville busker video by now – or at least over 1.8 million YouTube visitors have seen it anyway. It's cute. But I'm going to be a bit harsh, OK? Look at the singer before Jimmy turns up. I don't know what you saw, but I saw a scruffy guy mumbling to the neck of his guitar. Jimmy Somerville vs A busker will be a very easy match to referee! Read more →

October 30, 2013 | Posted in tip | By nimda
Seemingly every week, there are reports of different singers or rappers not remembering song lyrics during a concert. Although I can understand that this catches people's attention, I have never understood why such a big deal is made of it.
Singers often have a big repertoire to remember, and are also concentrating on their performance and probably 100 other details we don't notice from the hall. Read more →