I was going to get very clever and talk about how to sing like Adele, talking about her combination of soulfulness and, er, Englishness. The restrained singing with lots of emotion.
But learning to sing is not a spectator sport. So when I came across Ken Tamplin actually demonstrating what I was going to say (and more!) I thought I'd let him do the hard work ;-). Ken is a great coach and I recommend you check him out if you are serious about learning how to sing like Adele (or a host of other great singers).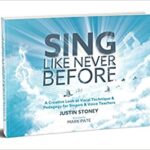 So enjoy the lesson, listen carefully to Adele, Ken and his subject. You'll pick up interesting tips. But don't forget my usual reminder: always, always, always warm up your voice before starting to try this.
Let us know which style of Adele singing you prefer.
If you want to know more, find out about learning to sing.
And let's not forget Adele herself! A great performer