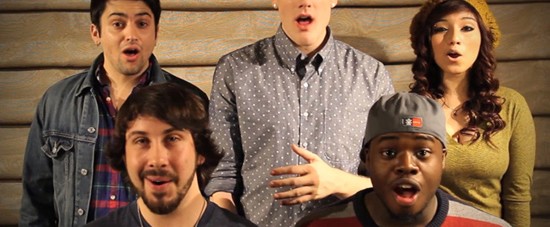 March 16, 2014 | Posted in news | By nimda
This one goes (almost) without comment. Two guys decided to cover some of Beyonce's songs. No, actually they decided to cover all of the songs from her self-titled album as they couldn't decide which one to sing. Plus, they did it all in five minutes. The result is pretty amazing! Mitch Grassi and Scott Hoying are members of the a cappella group Pentatonix.
How does this sounds as an exercise? Think you could something similar? We'd love to hear it if you do! Just post the link as a comment below.
More cover songs by Pentatonix
If you think this is good, I also strongly recommend that you drop over to the Pentatonix site for some sensational singing. Beautiful.
They are currently touring in the States (March 2014). Details on their website.

January 17, 2014 | Posted in news, song meaning | By nimda

The new self-titled Beyoncé album continues to make waves. In a behind-the-scenes video released recently, Justin Timberlake was so blown away by her vocal performance on the song "Rockets" that he blurted out, "Wow. There's something wrong with you. That is… There's something wrong with you". He meant it as a compliment, of course. Timberlake and Miguel co-wrote the song with her.
"The video gives a good indication of what was running through Beyonce's mind during the writing. She speaks notably about the fact she had felt a little hindered by what other people think of her. But, "the people that have grown up with me have grown up". So she felt it was time give a more complete picture of herself.
"I feel like I've finally earned the right to be me and to express any and every side of myself," she says. "I feel like I'm opening up a lot in these videos and showing a lot of sides that only a few people have ever seen."