Justin Bieber's "Love Yourself" gets a theatrical treatment
I remember a TV presenter in the fifties getting lots of laughs by reading out the words to Gene Vincent's "Be Bop A Lula" like a poem. Morgan Freeman went for the same effect recently, when the American magazine Vanity Fair asked him to recite the lyrics to Justin Bieber's "Love Yourself".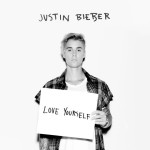 The lovely baritone-voiced actor couldn't resist throwing in a few eye-rolls and wry smiles along the way. Overall, yes the song comes across as very lightweight – but not as dotty as be "Bop A Lula"! Bieber himself seemed to at least tacitly approve, as he retweeted an item from Billboard about it. And why not? I'd be flattered, even if Freeman did not seem knocked out by the words. This is pop music, after all. A more interesting question would be what song would Freeman like to recite.
In related news, "Love Yourself" has gone double platinum in the UK. It looks as though this will be Bieber's biggest hit ever.